Never Miss a Notification in MATE Desktop
By Ivan Jurišić Debian - Permalink
If using MATE Dekstop don't have indicator for unread notification like Cinnamon Dekstop. But if install Ayatana Indicator for viewing recent notifications with one click, you can see and action them.
Example how to install support for Mate & Ayatana Indicator:

apt install mate-indicator-applet ayatana-indicator-notifications
Now go on panel and right click, then click on Add to Panel, select "Indicator Applet" and for finish click on Add button.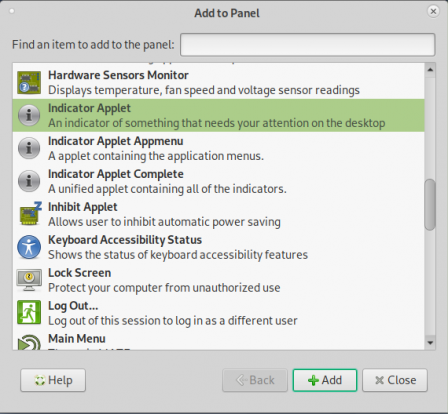 On panel now we have new icon ( in my case on left side first icon):

And that is all.
Now we can test how work, open System->Control Panel->Popup Notification and press button Preview and test notification will show as we expected:

Now if better look, our indicator for notification now is green and now click on green icon:

We see text of test, time, date and name of application.
Enjoy and no more miss notification on MATE Daesktop.